Hartsfield-Jackson Atlanta International Airport - ATL
Welcome to ATL - Atlanta Hartsfield - Jackson international airport. Atlanta's airport is the busiest passenger airport in the world today with over 80 Million passengers going through the Atlanta Airport each year.
See MAP & DIRECTIONS. ATL Airport offers car rental services.
For Hotels near Atlanta Airport call 1-800-327-1390.
Hartsfield-Jackson Atlanta International Airport - ATL official site:
www.atlanta-airport.com.
The airport phone numbers are;
Local (404) 530-7300 and Toll Free (800) 897-1910. The Address is:
6000 N. Terminal Pkwy. Atlanta, Ga. 30320
Atlanta is a hub airport for Delta Airlines, the oldest continuous tenant at the Atlanta Airport, having had service from Atlanta to other destinations since 1930, then operating as Delta Air Service.
Atlanta Airport is located seven miles south of the business district in Atlanta, Georgia. Many of the nearly one million Atlanta Airport flights are inside the United State, where Atlanta serves as a major hub for air travel throughout the Southeastern United States. Hartsfield-Jackson Atlanta International Airport has 207 domestic and international gates.
In 1925 the land that an old racetrack was on, was leased by the city and named Candler Field, the first commercial flight was in September of 1926 with a regularly scheduled mail delivery flight. In 1971 the airport was named William B. Hartsfield Atlanta Airport in honor of the mayor that made sure the airport was developed, and in October of 2003 the name was changed again to Hartsfield-Jackson Atlanta International Airport in recognition of Mayor Maynard Jackson's contribution to the modernization of the Atlanta Airport.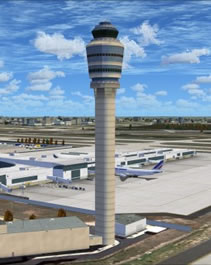 View Hartsfield Jackson Atlanta International Airport (ATL) in a larger map