Atlanta Airport discount shuttle SuperShuttle not available in this area

Airport Shuttle To and from Dallas Fort Worth Airport and Hotels
For Hotels near Atlanta Airport call 1-800-327-1390.
Hartsfield-Jackson Atlanta International Airport - ATL official site:
www.atlanta-airport.com.

The easiest and most cost-effective airport shuttle service to and from the airport from your home, office or hotel. Book your reservation for airport transportation online now and automatically save $2 …plus earn frequent flyer points or miles on select airline partners.
SuperShuttle is the nation's leading shared-ride airport shuttle service, providing door-to-door ground transportation to more than 8 million passengers per year. Our friendly drivers, comfortable vans and reasonable rates take the hassle out of getting to and from 39 airports in the U.S., and France!
In 1925 the land that an old racetrack was on, was leased by the city and named Candler Field, the first commercial flight was in September of 1926 with a regularly scheduled mail delivery flight. In 1971 the airport was named William B. Hartsfield Atlanta Airport in honor of the mayor that made sure the airport was developed, and in October of 2003 the name was changed again to Hartsfield-Jackson Atlanta International Airport in recognition of Mayor Maynard Jackson's contribution to the modernization of the Atlanta Airport.

Learn more...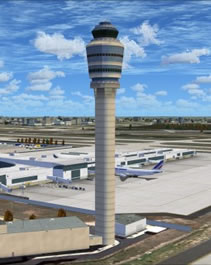 This site is used to promote tourism in the Hartsfield-Jackson Atlanta Airport area. // See
SiteMap